This is the world's first consumer product to support Wi-Fi 7
---
When Wi-Fi 6 technology has not really been used and widely known, the technology world is preparing to welcome a new superior internet connection standard, which is Wi-Fi. 7 .
ZTE has just made itself the center of attention when it launches the first commercial consumer product that supports Wi-Fi 7 connectivity within the framework of the MWC 2022 conference. Called ZTE MC888 Flagship, this is basically a Wi-Fi 7 5G CPE (Customer Premises Equipment) transmitter, which receives mobile data like 4G LTE/5G, and then converts them into Wi-Fi signals to allow more devices to connect at the same time. at the time. Typically, CPE devices are most commonly seen in hospitals, factories as well as areas where a wired internet connection is not available. This equipment will help to save costs and eliminate the complexity of installing fiber optic cables in specific areas.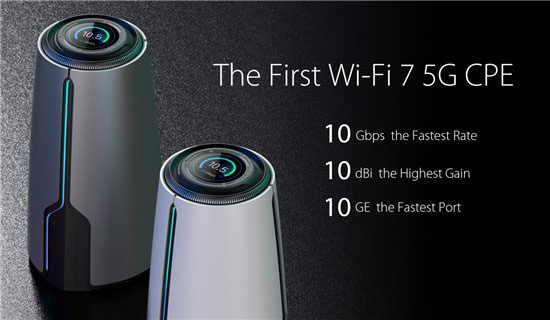 Talk about the highlights of ZTE MC888 Flagship. It supports global sub6 and mmWave frequency bands, and is equipped with ZTE's industry-leading smart X antenna technology, which can achieve impressive signal performance, up to 10dBi. Not reused there, MC888 Flagship also adopts the world's first auxiliary antenna technology, which can give high mmW conversion efficiency. The built-in LED display on C888 Flagship will allow users to monitor network signal changes in real time. The device can automatically rotate, monitor and lock mmWave signals, thereby supporting the highest Internet speed up to 10Gbps.

Currently, MC888 Flagship holds the record for the world's fastest Wi-Fi 7 solution, with the ability to support 2.4GHz/5GHz/6Hz bands with speeds up to 19GBps if all three bands are used. use full capacity. And since this router runs on Wi-Fi 7 technology, it will also offer many new features that are never before., For example, MC888 Flagship can support 320MHz bandwidth, multi-link operation (MLO) and 4K QAM, ensuring that up to 256 devices can be connected at the same time.
Notably, MC888 Flagship is also equipped with the world's fastest 10 Gigabit Ethernet port, providing reliable 10 Gigabit connectivity for computers, smart TVs, 8K video streaming etc. Experience high-quality Internet use like a wired connection, with convenience at the forefront.
ZTE will officially open sale MC888 Flagship to the market at the end of 2022, but the price of the product has not been disclosed yet.
---
---
Electronic Journal of Finance
Editorial: 4th Floor, Project Building, No.4, Hang Chuoi 1 Lane, Hai Ba Trung District, City. Hanoi
Tel: 024.39330038, 028.39300434
Only reissue information from this website with the consent in writing of Electronic Journal of Finance