5 ways to fix dxgmms2.sys error in Windows 11
---
BSOD errors are never welcome in Windows. One particularly well-known blue screen of death issue is the dxgmms2.sys error, which often occurs while gaming. Accompanied by a message like SYSTEM_THREAD_EXCEPTION_NOT_HANDLED or DRIVER_IRQL_NOT_LESS_OR_EQUAL , the error is mostly caused by a graphics driver or hardware malfunction.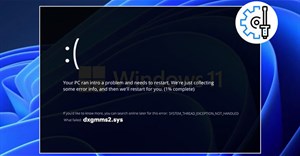 However, this problem can also be caused by other underlying issues. Thankfully, you can fix the error at home using the fixes listed below.
1. Change the graphics driver
The first action you should take when dealing with the dxgmms2.sys blue screen error is to make changes to the graphics driver. If you don't remember when your display drivers were last updated, update them . The error can also appear after installing a new driver update recently. In that case you should try rolling them back to a previous update .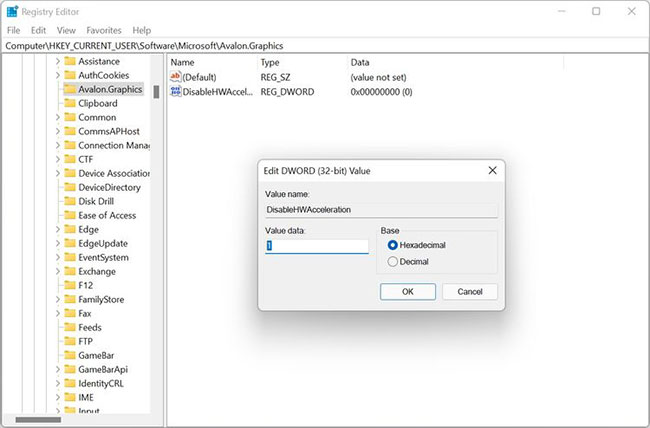 There are two main ways to change your graphics driver. If you use a dedicated graphics card, we recommend using companion software such as NVIDIA GeForce Experience or AMD Radeon Software. You can also manage all your drivers using Device Manager in Windows.
2. Disable Hardware Acceleration
Another common reason for dxgmms2.sys error is Hardware Acceleration feature in Windows 10 and 11. Hardware Acceleration feature helps to improve computer performance, but you can disable this feature to see dxgmms2.sys error still appear?
You will have to edit the Registry settings to disable Hardware Acceleration, so make sure you create a system restore point before continuing.

B1: Press Win + R to open the Run application .
B2: Type regedit in the text box and press Enter. You will need admin rights to make changes to the Windows Registry.
B3: In the Registry , navigate to H KEY_CURRENT_USER > Software > Microsoft > Avalon.Graphics using the navigation pane on the left.
B4: Here, right click on an empty space in the right pane and go to New > DWORD (32-bit) Value .
Step 5 : Name the entry DisableHWAcceleration.
B6: Now double click the newly created entry and in Value data enter 1 .
B7: Click OK.
B8: Exit Registry Editor and restart the computer .
If you are still getting the blue screen error after this method, make sure to re-enable Hardware Acceleration by changing the value data in the DisableHWAcceleration entry to 0 .
3. Run DirectX Diagnostic Tool
The dxgmms2.sys error is directly related to DirectX on Windows . In fact, the filename itself is a shortened form of DirectX Graphics MMS.
Therefore, one of the best ways to effectively diagnose the problem is to open the built-in DirectX Diagnostic Tool in Windows: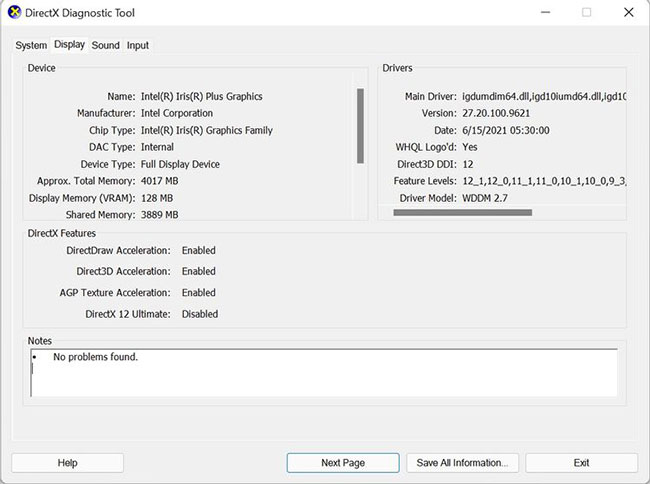 B1: Launch the Run command using the keyboard shortcut Windows + R .
B2: Type dxdiag into the dialog box and press Enter. This will open the DirectX Diagnostic utility .
B3: Wait for DirectX Diagnostic Tool to complete the troubleshooting.
Step 4: Now, click on the Display tab in the window.
B5: Check the Notes section for any errors or conflicts.
B6: If you see an error in this section, download DirectX Web Installer to reinstall the necessary components.
This should resolve the dxgmms2.sys error for many users. If not, move on to the next step.
4. Run the Windows Memory Diagnostic utility
In rare cases, malfunctioning or faulty memory can also lead to dxgmms2.sys blue screen error. In this case, Windows also has a built-in utility that can effectively diagnose and fix the problem. This tool is called Windows Memory Diagnostic.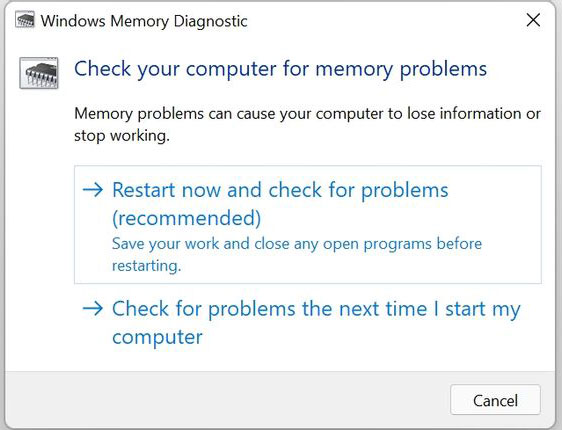 B1: In the Start menu search bar , search for Windows Memory Diagnostic .
B2: A prompt will be displayed.
B3: Click the option Restart now and check for problems to restart your computer immediately.
B4: You can also select the option Check for problems the next time I start my computer , if you have unsaved work open on your computer.
B5: Windows will scan for memory-related problems when the computer boots up.
5. Update BIOS
Outdated BIOS can lead to many errors on PC, one of which is dxgmms2.sys BSOD. You should always update the BIOS to the latest version.
While the methods of updating the PC's BIOS may vary between different manufacturers, the general process should be the same as in the article: BIOS Upgrade Guide .
The methods listed above should resolve the dxgmms2.sys error for most users. However, problems with the hardware can also cause errors, in which case you will have to replace your GPU or RAM . There are many other signs that can tell you if it's time to upgrade your GPU.
How to fix Runtime errors in Windows 11
How to fix BackgroundTaskHost.exe error on Windows 11
Fix the error of not opening Windows Security on Windows 11
How to fix errors that cannot open Start Menu, hang Taskbar and Settings on Windows 11
---
---
Electronic Journal of Finance
Editorial: 4th Floor, Project Building, No.4, Hang Chuoi 1 Lane, Hai Ba Trung District, City. Hanoi
Tel: 024.39330038, 028.39300434
Only reissue information from this website with the consent in writing of Electronic Journal of Finance